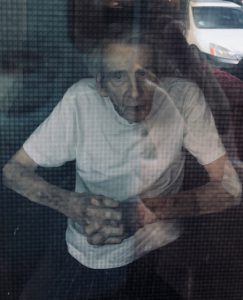 What separates us is glass—the window I stand behind when I visit. I can see him but he's grainy, obscured by the screen and the shadows. A caregiver puts the phone to his ear but he's nearly deaf now and can't hear me. I speak emphatically, slowly, hoping he can read my lips.
HI DAD! I LOVE YOU!
I blow him kisses and make exaggerated faces, like for a baby.
The glass is also within me breaking into pieces. Fragments as invisible as tiny shards on the floor. But oh, the damage they cause. The drops of blood they leave behind.
The first piece splintered this morning as I was driving my father to his new home, another memory facility for people with dementia. He's sitting next to me wearing his sweatpants and jacket and compression socks. His hair is unkempt and in need of a cut.
Last night, I tried to tell him what was happening today. I spoke loudly into his "good" ear, which isn't very good at all. He seemed to hear me but I'm not sure he understood. Even if he did, I knew I'd need to tell him again. Every day is new. What is said or done the day before is wiped clean like footage from a security camera.
This morning my husband and I get my dad out of bed, a difficult process requiring two people. My father cannot support his weight even for a few moments, so my husband holds him up while I try to guide him into the wheelchair. We take him to the toilet, back into the chair and then try to get him dressed.
I'm struck by how bad we are at this, how unnatural it feels. We're huffing and puffing just maneuvering my dad into a sitting position. I'm fumbling trying to get his sweat pants on. His legs are sticks but his feet are leaden on the floor. I lean over to his one "good" ear, which isn't very good at all. He can only hear from the left ear and it's down to about 10%. "DAD, LIFT UP YOUR FEET," I say.
I wrestle the pants partway up his legs as my husband begins to lift him. My dad doesn't know to hold on. "GEORGE, PUT YOUR ARMS AROUND ME," my husband says. I quickly pull up the sweatpants as my father clings to my husband, then we guide him back into the wheelchair. I see fear on his face. "IT'S OK, DAD. THE CHAIR IS RIGHT THERE. YOU CAN SIT."
The shirt is easier, but we're left winded. I have no idea how people do this. I feel every year, every day of my age. This is a young person's job, I think. A younger, more muscular, robust person. What about a shower? How will we do it? I don't know so I set it aside for now.
Making breakfast is a relief. A simple, comfortable task. I get him a cup of coffee—three sugars plus cream in a shatterproof cup—and give him his medication. He fumbles with the pills so I hand them to him a few at a time, watching as he gulps them down with water.
I've read people with latter stage Lewy Body dementia have trouble swallowing, so I only give him one or two small pills at once.
Yesterday the big breakfast I made upset his stomach, so I give him less this morning: just two pieces of peanut butter toast and a banana. He loves peanut butter. I cut everything into small pieces. Last night I fed him most him of his dinner. He can manage finger food but struggles with a fork and spoon.
As he's eating I kneel beside him and put my mouth up to his ear. "DAD, WE'RE GETTING READY TO TAKE YOU TO YOUR NEW HOME! I THINK YOU'RE GOING TO LIKE IT. IT WILL BE BETTER THAN THE OTHER PLACE!
"Oh good," he says. "You guys are coming with me? I'm glad baby!"
"WE ARE DROPPING YOU OFF THERE, DAD. WE'LL BE LEAVING BUT WILL BE COME BACK TO SEE YOU! I CAN SEE YOU THROUGH THE WINDOW EVERY DAY," I said.
"Ok honey. That sounds nice!" He munches on his toast. "Delicious!" he says.
He looks content with his toast and coffee. But I have no idea if he understood what I told him. A few minutes later I wheel him out to the car. He still looks happy. As I'm driving he's looking out the window and commenting on things like a child: trees, a construction site, a Walgreen's sign. "Walgreens!" he says. I smile at this small comfort. He can still read.
Another piece breaks inside me as we're dropping him off. A few staff members wearing masks are standing by his wheelchair as I lean over to hug him goodbye. I wrap my arms around him, hugging him fiercely, trying to make it last. I feel the sharp bones in his shoulders and his soft, wispy hair against my hand. Tears wet my face, both his and mine. "I LOVE YOU, DAD," I say.
"I love you, baby," he says, his voice cracking.
"WE WILL BE BY TO SEE YOU, DAD. I'LL COME TO THE WINDOW!"
As he's being wheeled inside, anxiety grips me. I want to stop them, to grab onto his chair and bring him back. I worry it will be like the last place. He'll be alone and isolated in his room, feeling rejected, abandoned. There'll be no one to cheer him up. No one to hug him or kiss him or hold his hand.
I wish I could dole out our last embrace like bread crumbs, a few scraps each day to sustain him through the coming weeks. Months? We're in Phase 1 and senior homes won't open until Phase IV. There is no telling when it will happen.
Over the next few days, I tell myself I've done the right thing. It was hard but I got him out of the other place. The new place has more reasonable procedures even during the shut-down period. They allow family window visits. My dad will be able to interact with other memory unit residents. Unlike the last facility, care packages are allowed. More importantly, family members aren't forbidden on the property. I can come by every day, any time of day. So can my husband.
Over the next few days I keep telling myself I'm doing the right thing for my father. I'm honoring him by giving him the best care. But doubt courses through me and this thought sticks in my mind: no matter how nice the place, he won't receive the care he would from me at my home. The people there are employees, not family.
I ask the Lord to show me how to fix this, to redirect me to a better way. I want him to make me hearty and muscular—physically strong enough to lift my dad. Stoic and resilient. Sturdy and unflappable. I keep praying this because I am so afraid I have failed my father.
Today as I look through the window, I wonder if this is God's answer. My dad is sleeping in his silent world, sleeping most of the day from what they tell me. I am standing on the other side of the glass, only feet away but unable to reach him. Just watching him and saying goodbye.