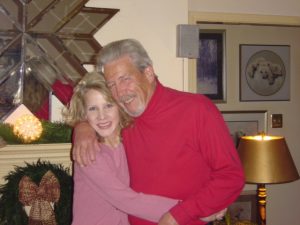 Yesterday I visited my father at the memory care facility. I brought him banana cream pie and held my phone up to his ear so he could hear some songs. I tried to remember ones he once liked, some from my childhood and some later. I looked them up on YouTube.
His speech is mostly gone and he can't really follow a conversation anymore, but he came alive when I played the music.
He knew every song. One was from so long ago, Charlie Rich singing "The Most Beautiful Girl." I was in grade school when my parents used to listen to that song. I wasn't sure if my dad would remember but he did, right from the opening music. I saw the recognition on his face and he said, "Oh yes" and broke into this smile, wistful, tender.
When I played "Always on my Mind" by Willie Nelson, he stopped eating the pie. His fork was halfway up and he put it down and put his head back and closed his eyes. He sang.
I listened to his sweet voice singing, some of the words right, some others stumbling, nonsense and hum-singing. It was lovely and aching… like a hand clutching my heart. I saw tears rolling down his face.
Then I picked up the pace and played "Whole Lotta Shakin' Goin' On."
"It's the 'Killer' Dad, Jerry Lee Lewis. Remember? Hear the piano?" I said.
He laughed and tapped his foot.
The last song was "Sweet Dreams" by Patsy Cline. He loved that one too. Head back again, eyes closed, pain and joy flickering across his face.
And both so deep in my heart.