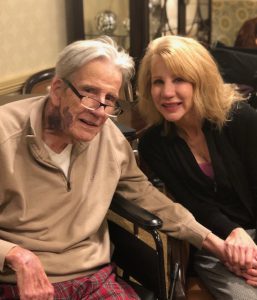 This is what it feels like when the Lord puts his hand on me. He took my bedraggled heart, stitched it together and plumped it full. Yesterday it was withering and now it is bursting.
I am sitting at the memory care unit with my father holding his hand. We are in the great room listening to a man sing "Three times a Lady," the Commodores' song from the '70s.
I hear it as I walk in the facility, and I follow the music to my dad. He is seated near the front, his foot lightly tapping.
Next to him is an empty chair, so close it seems prepared for me. As I begin to sit down, my dad senses my presence. He smiles and leans towards me as I kiss his cheek. He is rocking plaid pajama pants and a tan pullover sweater. He looks alert and cheerful. I touch his arm and he puts his hand over mine. I scoot my chair a little closer to him.
The singer is a black man in his late '60s with a pleasant, full voice and a lovely smile. He adjusts his music machine and begins "I Heard it Through the Grapevine." It is a little tinny and low-tech but so wonderful. So perfect. My dad and I are nestled together. My foot is tapping along with his. We've only exchanged one word, hi. The rest are all unspoken.
As I'm holding my father's hand and singing along, I feel joy surge through my body. It is like the powerful infusion of "relaxation" medicine I've had before surgery, the kind that makes me deliriously happy. But it is better, because it is not chemically-induced. It is God-induced.
It is the Lord giving me a precious moment with my dad of such beauty and purity, it overwhelms me. We are "(Wasting Away in) Margaritaville" and there is nowhere else I'd rather be. I look around and see bright faces and more life than I've ever seen at this place. About 25 elderly people, mostly in wheelchairs, their eyes shining and lips mouthing familiar lyrics. Broad smiles, robust clapping. Even the staff members seem more engaged.
I cling to this moment like a branch pulling me from a sinkhole. It erases last Sunday when I found my father lying upside down in bed on wet sheets. His legs were half off the bed, as if he'd been tossed there. The pads underneath him were soaked, and his room was dirty. It took me half an hour and three requests—each increasingly tense—to get someone to attend to him.
The despair I felt then—the indignation—consumed me. A scene popped in my head from the film, Terms of Endearment. Shirley MacLaine's character is trying to get nurses to help her dying daughter, played by Debra Winger. They are disinterested and unresponsive, so she runs down the hallway, screaming and banging on the counters, demanding attention. She is unhinged, and I understand.
The singer says he has time for one more song, Nat King Cole's "Chestnuts Roasting on an Open Fire." I get up to leave, because I want to remember my father in this moment, sitting here entranced, delighted and not needing me. I kiss him goodbye and he pats my hand and smiles.
The full effect hits me as I'm backing my car out of the lot. A flood of tears unleashes—cleansing tears. Sobbing that feels good, like relief, like gratitude. I sense the Lord's presence in the car with me, so powerful. I know he is here with me now, as he was on Sunday. I know he was with my father as he lay on soaked sheets, and he was with him as he sat enjoying the music.
I have no resistance left. I let myself cry, let go of it all. Something unclenches inside me, tension breaks. My body is lighter.
I'm driving and praising God until I run out of words. They don't sound like enough, so I just say his name: Jesus. Jesus. Thank you, Jesus. I know his name is enough. He is enough.